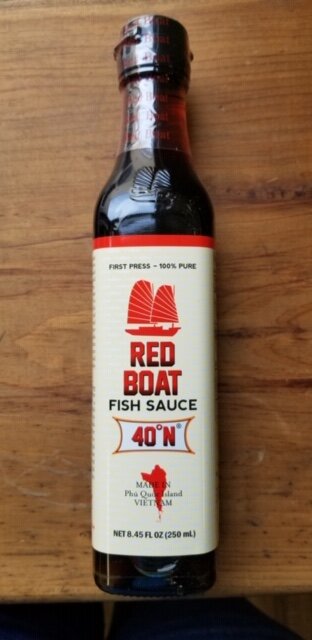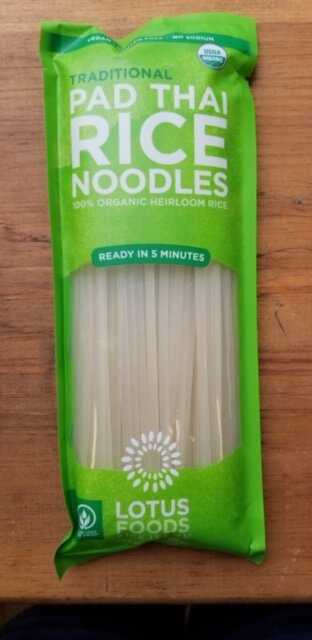 This is the kind of success I love!
You see a picture on the cover of a magazine that looks so amazing, and you're pretty sure that your own finished product will never look as appetizing or taste as delicious as this perfectly photographed dish. To my surprise, this recipe delivers outstanding flavor and comes together pretty quickly.—And it actually looked almost exactly like the cover of the magazine. So much so, I had to send it to my adult children encouraging them to cook it too!
My thoughts:
For the protein, we used steak, but you could easily substitute chicken or pork. I was thinking you could even use portobello mushrooms as a substitute for the meat.
I'm not a huge fan of fish sauce, so I only used 1 tablespoon (original recipe calls for 3 tablespoons.)
I substituted sliced regular cucumber for "Persian cucumbers."
I didn't have daikon. The first time i made this, I substituted water chestnuts. The second time, I just left it out all together. Any crunchy veggie would work though.
The mint! Do not leave this out. The fresh flavor of this herb really provides complexity to this dish.
There are many notes about adding kosher salt. Use your own judgment. Salt can certainly brighten flavors, but use your taste buds as you go along to decide if it's needed.
Weeknight Steak and Rice Noodle Salad (adapted from Bon Appetit)
Click here to see the original recipe and photograph!
2 small serrano chiles (We have LOCAL chiles in stock right now!)
1 small garlic clove
kosher salt
1/4 c. plus 2T fresh lime juice (USE FRESHLY SQUEEZED—so much better flavor!)
2 T fish sauce
3 T honey
2 T vegetable oil, divided
8 oz. skirt steak (or any other steak of your choosing—or chicken, pork, or portobello)
8 oz. wide rice noodles
1/2 small head of Napa or Savoy cabbage, coarsely chopped
1 small cucumber, thinly sliced
1 6" piece of daikon, peeled, halved, thinly sliced (or sub another crunchy veggie, or leave it out)
1/2 c. finely chopped mint, plus leaves for serving
1/2 c. chopped salted, roasted peanuts plus more for serving
Remove seeds from 1 chile, then finely chop with remaining chile. Thinly slice garlic. Sprinkle a pinch of kosher salt over chiles and garlic. Smash chiles and garlic with the flat side of a chef's knife, alternating chopping and mashing, until a coarse past forms. Transfer mixture to a large bowl and add lime juice, fish sauce, honey, and 1 T. of oil. Stir vigorously to dissolve honey. This is your dressing.
Place steak in a medium bow. Drizzle with 3 T. dressing over, holding back chiles with a spoon; set remaining dressing aside. Let steak sit, turning occasionally, at least 10 minutes and up to an hour. (I let it sit for an hour.)
Meanwhile, bring a medium pot of salted water to a boil. Remove from heat, add noodles, and cover pot. Let sit, stirring every minute or so to keep noodles from sticking, until al dente, 5-8 minutes. Drain and rinse under cold running water, set aside.
Using your hands, toss cabbage, cucumbers, and daikon in a large bowl, season lightly with kosher salt. Massage vegetables with your hands to release excess water, then pour off any liquid that has collected in the bottom of the bowl. (I used a paper towel to blot up extra moisture too.)
I grilled the steak about 4 minutes per side for medium rare. Original instructions say to heat remaining 1 T vegetable oil in a large grill pan or skillet over medium high heat. Cooking it until brown (same time frame for medium rare: about 4 minutes per side. (Use a meat thermometer to see if it's cooked to your desired doneness.) Transfer steak to a cutting board and let it rest 5 minutes. Thinly slice.
Add steak , cabbage mixture, reserved noodles, 1/2 c mint, and 1/2 c peanuts to bowl with reserved dressing and toss well; season with more kosher salt if needed. NOTE: Reading reviews, I would recommend dressing each individual bowl of salad separately, so in the event there are leftovers, your cabbage and cucumbers won't get too soggy.
Divide among bowls. Sprinkle with sea salt, top with mint leaves, and more peanuts.